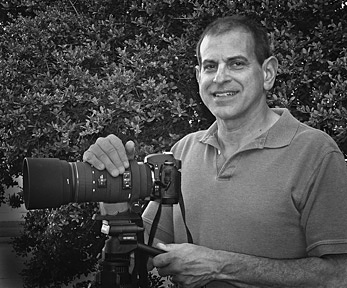 Biography of Bob Frank...
Bob Frank is a graduate Brooks Institute of Photography in Santa Barbara, California.
He has worked in the commercial photo lab and digital printing industry for over 25 years.
Currently he is employed with BWC Creative where Bob works with large printers and manages color for this imaging company.
Bob is considered one of the top nature photographers in the area.
He is involved with following camera clubs: Plano Photography Club, Dallas Camera Club, and the Heard Nature Photography Club. Within these clubs he has received many awards ranging from High Points of the year, Photo of the Year, and Slide of the year.
Bob has been a popular guest speaker and has conducted workshops for area camera clubs and nature organizations.
He will be a presenter at the Gulf States Camera Club Convention in April 2007, the topic will be "Small Insect Macro Photography".

Currently Specializing in macro photography, Bob has received email from founder of Raynox Optical stating that his is "among the finest macro photography he has ever seen".

Some accomplishments include:
2004 City of Richardson Photo Contest - Best of Show
2004 Dallas Camera Club – Slide of the Year
2005 Popular Photography International Picture Contest – 3rd Place Nature
2005 State Fair of Texas – 1st Place Insect Category
2005 Dallas Zoo Feathers and Fur Photo Contest – 1st Place
2005 City of Plano Showcase Exhibit – Best of Show
2005 Gulf States Camera Club – Nature Slide of the Year
2005 Dallas Camera Club – Print of the Year
2005 Dallas Camera Club – Slide of the Year
2005 Heard Nature Photography Contest – 1st Place
2006 City of Richardson Photo Contest - Best of Show
2006 Steve's-Digicam – Photo of the Month (International Website Competition)